CONDUCTING GROUP SESSIONS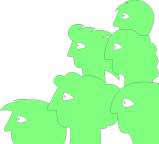 (8 CEU's)


Presented by: Anne King, C.H.

1-Day Course


Learn everything you need to know about working with groups from how to conduct a group session that will be most beneficial to each participant as well as easy ways to market to and obtain groups for a variety of topics.

PRIVATE GROUPS IN YOUR OFFICE

<![if !vml]> <![endif]>

OPEN-TO-THE-PUBLIC GROUPS

CLIENT-ARRANGED OUT-OF-OFFICE GROUPS

OUT-OF-TOWN GROUPS

SETTING UP A HOTEL CIRCUIT

TARGETING SMALL BUSINESSES

SELLING EMPLOYEE GROUP PROGRAMS TO CORPORATIONS

BENEFITS OF CONDUCTING GROUPS AS A PUBLIC SERVICE

ADVERTISING & REFERRALS

BACK-END SALES: EASY EXTRA INCOME
If you're not conducting Group Sessions, you are limiting your income and missing a wonderful opportunity for more clients and product sales.

ANNE KING, C.H.
began her successful full-time practice in 1986 and has owned hypnosis businesses in 3 Texas cities. Much of her income has been derived from group sessions as an addition to private sessions. She teaches hypnosis courses for certification and facilitates numerous CEU classes for practicing hypnotists. Ms. King is a regular presenter at several hypnosis conferences each year, is a Fellow and Diplomat of International Medical & Dental Hypnotherapy Association. She received their
Instructor of the Year
award in 2001.