RESONANCE REPATTERNING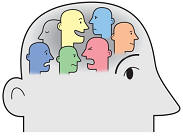 Presented by: SILVI SALINAS


2 ˝ Day Course

Open to the Public


RESONANCE REPATTERNING is a model for natural quantum change and self-transformation. The "Repatternings" actually transform unconscious belief systems from life-depleting to life-enhancing, thus, changing our life experiences. Blocked pathways create "non-coherent" vibrations that affect us in a negative or destructive way physically, mentally and emotionally. By using the Resonance Repatterning techniques to clear energy pathways, we create a state of order and harmony (coherence). When you live from coherence, you feel happy, energized, inspired, motivated, loving, compassionate, at peace. A coherent mind is clear thinking, objective, focused, creative, and confident. A coherent physical body is radiant, healthy, and strong.

YOU WILL LEARN:
Muscle check on yourself and others
Use your body's biofeedback system through the muscle checking and the felt sense
Identify the most effective Spiral Up Tool to use
Use a wide variety of Spiral Up Tools for self-healing
Release stress and restore balance to your body and mind
Use four types of "Repatternings
OPTIONAL COURSES FOR CERTIFICATION: This workshop consists of Levels 1 & 2 of a total 6-part course for certification. Those wishing to pursue further study will be eligible for a discount in future classes.

Sylvi Salinas is a Certified Resonance Repatterning® practitioner (since yr 2000) and instructor with 20 years of experience in the healing arts profession, including Resonance Repatterning, Conscious Language, hypnosis, massage, mind-mapping tools and complementary disciplines. She lives in Austin, Texas and teaches in the US and abroad.
For more info: www.sylvisalinas.com