CONDUCTING A STAGE SHOW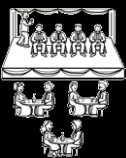 $79 $39
Presented by Kenn Geiger, Hypnotist Extraordinaire
"Yes, I do Stage Shows. What is the Date of Your Event?"
TURN THE SLOW SEASONS INTO MEGA-BUCKS VIA ENTERTAINMENT HYPNOSIS
Tap into this lucrative market and learn:
To use the Skills you already have to create an entertaining Hypnosis Stage Show
Where to steal material (er - I meant: Resources for Skits and Ideas)
How to Advertise
All about Agents and Contracts
How to work a Small Group
Getting Started with NO equipment Entertainment & Showmanship Secrets (& how to keep your guests in hypnosis)
In addition, this class covers:
How to put together a Customized Introduction
Gimmicks to Warm Up your Audience
Whether to use Volunteers or Selections
A Variety of Inductions
Ideas for Skits? What are the Limits?
Notes? To Use or Not to Use?: That is the question...
Financial Considerations (How much can you make? How are you paid?)
Time Considerations: The Length of your Shows
Kenn Geiger, Hypnotist Extraordinaire, has been doing hypnosis on purpose since 1988 and conducting stage shows since 1990. He is the owner/operator of Best Institute of Hypnosis in East Moline, IL, President of the Society for Ethical Hypnotists (since 1989), and a certified as an Instructor (both through IMDHA and for Neuro Subliminal Communication). Kenn has been presenting at national conferences since 2000 and earned prestigious awards in 1998 and 2003.
What attendees said:
"Great Presentation!" P.R. Austin, TX
"Interactive and Fun!!" H.C. Jackson